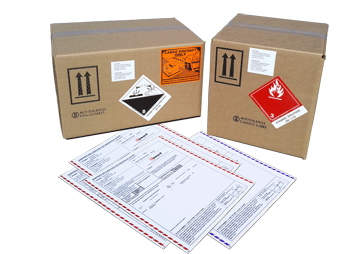 Allow our experienced staff to make your dangerous goods compliant.
There are many hoops to jump through when shipping dangerous goods. Shippers often find themselves facing rejections, delays, and fines due to non-compliance.  Eliminate this uncertainty with our packaging service – whether you lack the required training or occasionally need a reliable alternative, you're in good hands.
Why Upward Packaging?
Experience – our industry reputation is that we know dangerous goods regulations inside & out.  However, unlike many consultants, our knowledge isn't academic; it comes from years of practical experience dealing directly with dangerous goods and liaising with trucking companies, airlines, steamship lines, and freight forwarders in a dangerous goods context.  This experience allows us to anticipate potential pitfalls, and provides insight into how to get your freight to its destination without delays.
Saving$ – costs associated with DG shipping add up quickly – training staff, packaging, labeling, updating regulations, as well as costs associated with delayed and rejected shipments.  If you're sending less than 10 dangerous goods shipments per year, it's cheaper to leave it to the experts.
Reliability – our accurate work & quick turn around time is something you can count on.
Worldwide Shipping – by GROUND, MARINE, or AIR transport; rest assured your shipment will be compliant with TDG, 49 CFR, IMDG Code, or the IATA DG Regulations, as applicable.
Engines and Vehicles
DG documentation for air and marine shipments:
Please email completed form to: info@upwardpackaging.com.
(Finished declaration & label packages can be picked up or sent prepaid)
Lithium Batteries
Information on shipping lithium batteries by air: